August 2021 [Developed Coaxial Connector "KPC135"]

KPC135 Catalog[pdf]
KPC135 is a 1.35 mm coaxial connector that covers the E band (60 to 90 GHz).
1. What are 1.35 mm connectors?
-1.35 mm connectors are a new standard that fills the gap between 1.85 mm connectors (up to 67 (70) GHz) and 1 mm connectors (up to 110 GHz).
-It is suitable for industries(*) that hope to use a connector at over 70GHz but find 1mm connectors too small to handle.
-This connector is expected to be newly listed in the revised IEEE-Std-287 to be released this year.
(*) This connector was originally developed at the request of the automotive industry in Europe (mainly Germany), which uses a 79 GHz connector for collision-avoidance radar. The feature of this product is that it supports up to 90 GHz while having an outer diameter the same as a 1.85 mm connector.
2. Features of This Product
-This is a conversion adapter that enables setting up a measurement environment for 1.35 mm connectors using a measurement instrument for 1 mm connectors.
-This product is manufactured using our ultra-precision manufacturing technology for 1mm connectors and achieves low reflection and low loss.
3. Current Market Situation of 1.35 mm Connectors
Since IEC has standardized the connector quite recently (IEC61169-65 was issued in January this year), and IEEE287 has not yet been released, few measuring instruments support the connector. In addition, calibration kits for measurement have not been commercialized by the major manufacturers of measuring instruments.
Under such circumstances, we believe that companies developing new products in the E band (60 to 90 GHz) hope to evaluate their products quickly without waiting for the connectors' standardization.
For the E band, 1mm connectors have already been standardized and are being commercialized by various companies; however, the small size of the connector makes it difficult to use.
With the KPC135 connectors, we have first released a conversion adapter for 1mm connectors and 1.35mm connectors, so you can set up a measurement environment for 1.35mm connectors if you already have a measurement instrument for 1mm connectors. Therefore, we believe this product is easy-to-use for companies developing new products in the E band (60-90 GHz).
May 2020 [Donated Face Shields to Medical Institutions]
With the spread of the new coronavirus infections, there is a shortage of products, to reduce the risk of infection, such as face shields, gowns, and masks.
In response to this situation, the Fukushima Prefecture Medical Welfare Equipment Industry Council has initiated activities for the development and manufacture of products by member companies to supply the missing items in the medical field, such as face shields to medical institutions and support the medical system.
Our company's Fukushima factory participated in this activity as a corporate member and started the trial production from April. As a result, we have presented the completed face shields to the Fukushima Association for Clinical Engineers through the Council.
We are planning to prepare the mass production system after hearing the opinions of the medical staff and incorporating any improvements. We will continue to make efforts to support the medical system.
Features of our face shield
(1) Disposable type
(2) Material [body: corriboard, film: PET] *Can be discarded as resource waste
(3) Assembly type, easy to transport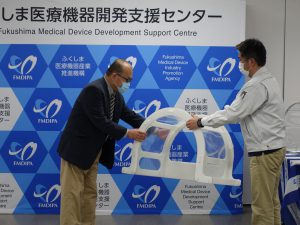 Matsuo Kanno, manager of Fukushima factory, participated in the ceremony (right)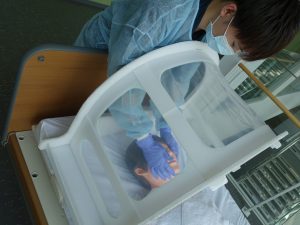 Usage
"Face Shields Manufactured by Four Companies in Fukushima Prefecture Presented to the Association for Clinical Engineers" (The Fukushima Minyu Shimbun)
Feb. 2020 [Interviewed by the Nihon Keizai Shimbun for "Development of Quantum Computers Supported by Craftsmanship"]
We take pride in the technological development and production of our connectors so that our customers can be satisfied with our coaxial connectors, which supports the world's most advanced technology.
Among such products are coaxial connectors developed and produced by our company. They are used in quantum computers and can be used at extremely low temperatures. The connectors are produced by applying our design and production technology for ultra-small, high-frequency coaxial connectors.
A university professor who regularly uses our coaxial connectors introduced our company to the Nihon Keizai Shimbun (Nikkei Inc.). Then the newspaper publisher visited our production plant in Akita Prefecture (Kazuno Connector Co., Ltd.) in early February 2020 and interviewed us.
The contents were published in the Nihon Keizai Shimbun article (page 21) dated Feb. 24, 2020, and partially in an electronic version.
"Development of Quantum Computers Supported by Craftsmanship" (the Nihon Keizai Shimbun, electronic version in Japanese)
We are further committed to developing coaxial connectors that are useful in the most advanced fields. Please feel free to contact us for any requirements.
Description of Precision Coaxial Connector "KPC Series" (our HP)
*Contact for Technical Inquiries
please click here