What is Glass Sealing?
Glass sealing is typically used to hermetically seal insulator and metal together. Kovar and Kovar alloy (Fe:Ni:Co = 54:29:17) are used to jointly seal metal pin such as signal wire and glass by heating them together. Glass sealing is a method to utilize the properties of metal and glass that have similar thermal expansion, whereas disadvantage is its weakness against external force such as shock and shrinkage.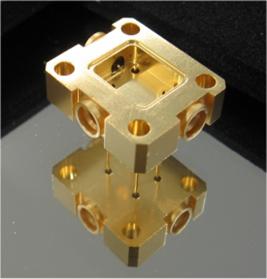 Samples of Sealed Products
| | | |
| --- | --- | --- |
| RF Package | Terminal for Millimeter Wave | High Pressure Vessel |
Combination of Metal Sealing
Base
Lead
Type of Glass
Finishing
Matched Seals
Kovar
Kovar
Borosilicate Glass
Ni-Ep+Au-Ep
Copper/Tungsten
Kovar
Borosilicate Glass
Ni-Ep+Au-Ep
Compression Seals
Steel
Fe-Ni50%
Soft Glass
Ni-Ep+Au-Ep
Steel
Copper-Clad
Soft Glass
Ni-Elp
Stainless Material
Fe-Ni50%
Soft Glass
Ni-Ep
Handling Items
1. Multi-conductor header
2. Millimeter-wave band (DC-110GHz) terminal
3. Heat sink header assy
4. Hermetic sealing for high pressure vessel
5. Customized products
Process Flowchart (Integrated Production System)
1. Purchase raw materials →
2. Machining process →
3. Sealing →
(4. Silver soldering)
(Press, M/C, Turning process)→
5. Surface treatment →
6. Quality check →
7. Delivery
Facilities for Sealing
– Tunnel Kiln: 7
– Helium leak tester: 2
– Super insulation resistance test
Quality Assurance
In order to ensure high quality standard of hermetically sealed products, various inspections and QA program are conducted. These processes include inspections as below and comply with MIL-STD-883,  MIL-PRF-38534, JEDEC No. 9 and Telcordia Standard.
Inspections include:
– Air tightness         
– Helium leak (with mass analyzer)
– Electrical insulating properties
– Electric property (high potential and dielectric resistance)
– Abrasion of lead line
– Visual and dimensional check
– Solder wettability
– Thermal shock