Please click each image for more details.
Optical Fiber Connector
Assembly of Optical Connector

We design and manufacture fiber optic cables in which optical connectors are assembled with various optical fibers based on our technological developments of optical connectors for more than 30 years. Custom specification also available.
Optical Fiber Array

We can design and manufacture optical fiber array according to customers' products and satisfy your requirements to use various fibers, channels, and others.
Optical Fiber Feedthrough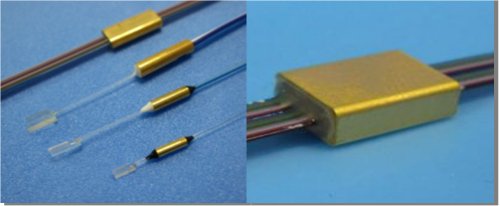 We can design and manufacture optical feedthroughs according to customers' products and satisfy your requirement such as various fibers, channels, operation temperature, hermeticity, and others.
Stub-Receptacle-YAG Welding

We can design and manufacture various stubs and receptacles according to customers' requirements. We can offer from the manufacturing of stubs, sub-assembly of a receptacle, through YAG welding of the optical axis.
Coaxial Connector
DC-110GHz Coaxial Connector [KPC Series]

KPC Catalog[pdf]

[New Product]KPC135 Catalog[pdf]
KPC Series are precision coaxial connectors conforming to IEEE-Std-287. These connectors were developed based on our many years of experience, technology, and analysis technology to minimize the electrical discontinuity of the coaxial connection and support section.
Many lineups are available, including adapters for field use (for measurement and testing) and launchers for device and component.
Furthermore, we have released KPC135 connectors in 2021, which are easy to use for companies developing new products in the E band (60-90 GHz), while IEC only recently standardized this connector (IEC 61169-65 was issued in January 2021), and IEEE 287 has not yet been released.
SMA Connector

SMA series were developed and produced conforming to MIL-PRF-39012 and are mainly used for UHF/SHF of microwave telecommunication and satellite communication device. We have about 3 million pcs of production and sales results up to now after 1975.
N Connector

N Series are threaded, general-purpose coaxial connectors adequate for coaxial cables, which are used for relatively high-power.
For ODU, a customized product with improved weather resistance by using stainless steel for an outer conductor is also available.
Other Connectors
We design and manufacture various other types of connectors, including "SSMA," "BNC," "TNC," "S," and others. Customized products are also available.
Other Products
Terahertz Waveguide

With high-precision micro-machining technology, we can process micron-level grooves by making full use of the ultimate processing machine control and expertise of machining tools.
This technology makes it possible to manufacture waveguides of the desired shape for our customers.
Cable Performance Evaluator "CaPE"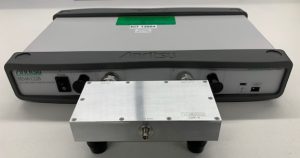 "CaPE" is a cable performance evaluator that can evaluate the performance and aging of flexible cables used for millimeter-wave measurements. It can be used as an option for Anritsu Corporation's vector network analyzer (VNA) to evaluate while standing waves are generated in cables.
Contact Us
Please feel free to contact us for processing review, quotation, or any other inquiries.
Click here for your inquiry on precision processing.